20 Best Artificial Christmas Trees 2020
8 min read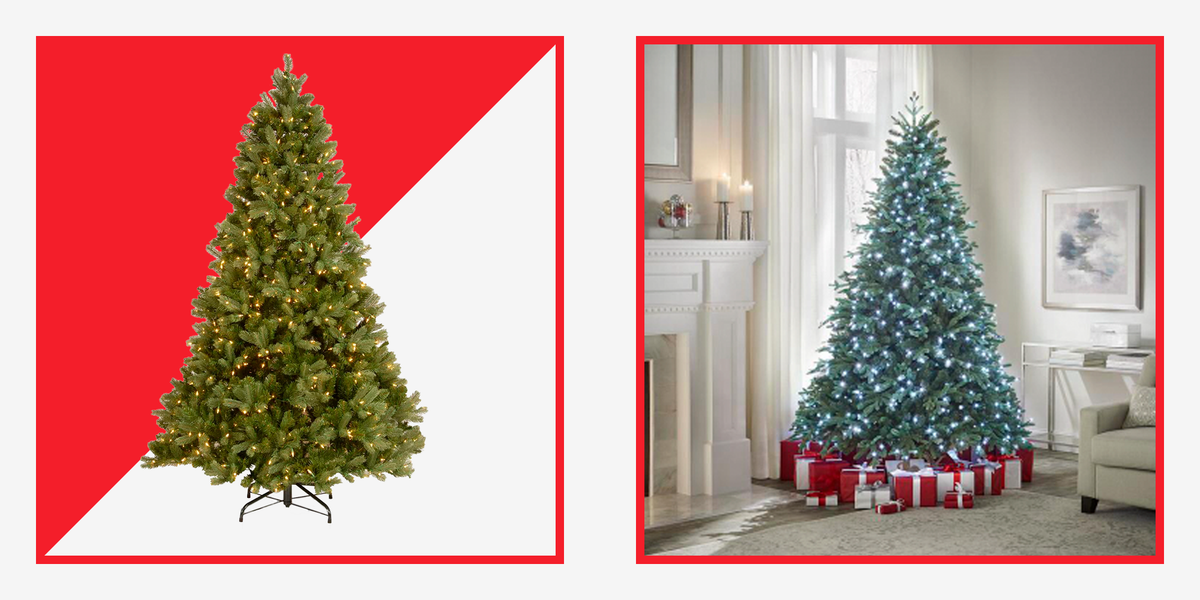 Photos Courtesy of Retailers
The time has come folks. The weather is crisp, the janglers are lining your storefronts, and radio stations (even Spotify) are pushing Mariah Carey's Christmas hits. With the holidays in the air, naturally it's time to turn your home into a winter wonderland. That means dusting off holiday decorations that have been stored in the attic for the last eight months and busting out the nutcrackers. But most importantly, it means setting up the perfect Christmas tree for your home.
Now, we use the word "perfect" loosely. What is perfect for you may not be to your neighbor. After all, each household is different, and a couple doesn't need the same size tree as a five-person family. And while we can't deny the wonderfully festive smell of a real tree, artificial Christmas trees are just plain easier. If you're wondering who makes the best artificial Christmas trees, you have come to the right place. Whether you're looking for a fake Christmas tree to skip out on the work and mess of a real one, or you're seeking one to match your living room décor, this list has you covered.
A lovely alternative to the real thing is a festive tree that brings the outside in. The key is to seek "real feel" details that don't scream synthetic. The good thing about 2020 is that technology is pretty advanced, so you can easily (with our help) find the most realistic looking artificial Christmas tree best suited for your home. Is it better to buy a pre-lit tree? What is the most realistic looking Christmas tree to buy? Where can I find the cheapest Christmas tree? How long does a fake tree last? What is the upkeep like? Ahead, we answer all of your questions, considering size, price, and of course, style. Happy holiday decorating!
Pre-Lit Vs Unlit Trees
Just like your attitude during the holiday season, all trees should be lit in one way or another. And many artificial Christmas trees these days come with a pre-lit option. Typically, pre-lit options are a bit pricier, but can be worth the investment saving you time, money and the hassle of replacing string lights. For those that like to get creative and change it up every year, we recommend going with a non-lit tree. Artificial Christmas trees should last anywhere from 5 to 10 years when properly cared for and stored away. Some say, non-lit trees last longer because of normal wear and tear on the electric cords, but according to experts, that all depends on the quality of the tree in the first place.
Check out the 20 best artificial Christmas trees that look anything but fake.
Advertisement – Continue Reading Below
BEST ARTIFICIAL CHRISTMAS TREE ON AMAZON
National Tree Company Store
amazon.com
$449.99
$199.99 (56% off)
This top-rated, pre-lit artificial Christmas tree has over 1,000 near perfect Amazon reviews. It includes pre-strung white lights and comes in four different heights. It pretty much checks off all the boxes if you're looking for a sturdy base and easy setup with that classic Douglas Fir construction.
BEST ARTIFICIAL CHRISTMAS TREE FOR SMALL SPACES
National Tree Company
Slim trees are best for the minimalist at heart, or for those that have smaller spaces. Like a good pair of jeans, there is something that feels elevated and stylish about a slim-cut tree. This one from National Tree Company has patented Feel-Real branch tip technology with 350 dual color LED lights that change from white to multicolor.
BEST FLOCKED ARTIFICIAL CHRISTMAS TREE
Home Accents Holiday
A flocked Christmas tree is one that appears to have artificial snow along the branches. This 7.5 foot masterpiece has added white texture scattered on the branches to bring the outdoors in, turning your living room into a true winter wonderland.
Belham Living
For those of you that don't go crazy over holiday decorating, but still care about holly-jolly vibes, this 5-minute assembly tree is for you. It's a slimmer Christmas tree that won't overwhelm your space and comes equipped with almost 3,000 branches for a realistic look. There are 500 pre-strung lights and snow dusted branches that can instantly transport your mind to the mountains.
BEST VALUE FAKE CHRISTMAS TREE
Best Choice Products 7.5ft Pre-Lit Artificial Christmas Tree
Another Amazon favorite, this fake Christmas tree gets you the most bang for your buck. Usually trees over six feet that look this good and are pre-lit are well in the $200-$300 price range. The spruce style branches are a classic and the full body makes this a luscious holiday centerpiece.
Kurt Adler Twinkly 5-Foot Pre-Lit LED Tree
Calling all ravers! Just kidding. But this tree can bring your living room pretty close to the vibes of a night club. It has a user-friendly setup, a full shape, and sturdy base. But the most notable feature is the app-enabled, multi-color lighting system. You can choose between a diverse range of color options and styles all in the palm of your hands. This might be our favorite tree on this list and it's well worth the price.
MOST STYLISH ARTIFICIAL CHRISTMAS TREE
Terrain Faux Pre-Lit Big + Bright Noble Fir
This faux pre-lit fir tree might be what some call a "Charlie Brown tree." It's great for smaller spaces because of the open space between each branch. Plus, it adds a modern element making it the most stylish tree on this list. Sure it's a bit pricey, but worth it if you're into chic statement-making interior design.
MOST UNIQUE ARTIFICIAL CHRISTMASS TREE
Treetopia Knocked Upside Down Christmas Tree
amazon.com
It's a playful twist on a Christmas classic. But why, you ask? Well, other than a conversation piece, it actually is beneficial in smaller spaces. It takes up much less floor space than a traditional tree. It's also pre-lit to save you time and space. 
BrylaneHome Fully-Decorated Pre-Lit 6-Ft. Fake Christmas Tree
amazon.com
If you're a busy bee that doesn't have time during the holiday season to decorate a tree, this one is for you. It's also fitting if you're just plain lazy (no judgement here.) This pop up design is pre-lit and pre-decorated, so you literally do not have to worry about a thing. Your living room can be transformed in 60 seconds. And right now it's under $100. 
BEST SPLURGE
Balsam Hill 7ft Premium Pre-Lit Artificial Christmas Tree
The attention to detail on this work of art is quite exquisite. The branches alternate blue and green leaves to add depth and texture, just like a real Colorado mountain Spruce Tree. If you're looking to impress this holiday season, we recommend going with this full bodied, pre-lit classic. Another notable feature is the warming lights. Instead of blinding LEDs, Balsam Hill takes it down a notch to create the cozy "hygge" feeling we all crave during the holidays.
BEST NON-TRADITIONAL ARTIFICIAL CHRISTMAS TREE
Treetopia Black Artificial Christmas Tree
amazon.com
Treetopia makes this slim, pre-lit fake Christmas tree in multiple colors and multiple heights. There is something so cool about an all-black option for any bachelor pad or man cave. 
BEST TABLETOP ARTIFICIAL CHRISTMAS TREE
National Tree Company Pre-lit Artificial Mini Christmas Tree
Sometimes all you want to do is plop a tree on an end table and call it day. This four footer with a burlap base is perfect for that. It's also perfect for the maximalist holiday decorator as an addition to the many trees you fill your home with.  It will look lovely on a desk, a stool, or even the floor. It's pre-lit, too!
MOST REALISTIC ARTIFICIAL CHRISTAS TREE
National Tree Company 9 ft. Artificial Christmas Tree
amazon.com
$579.99
$299.99 (48% off)
If you're looking to fool your holiday guests into thinking your tree is real, then you probably want to add this one from The National Tree Company to your cart. It's a replica of a real Dunhill Fir tree and has over 4,000 individually crafted branch tips. With a sturdy base and durable construction, this fake Christmas tree will last well over five years in the same full-bodied appearance.
BEST BUDGET ARTIFICIAL CHRISTMAS TREE
Holiday Time Non-Lit Elwood Pine Blue Artificial Christmas Tree
Walmart has a wonderfully diverse selection of fake Christmas trees, but it can sometimes be overwhelming. Pay attention to the majority of reviews. If you're on a budget but still want to decorate this holiday season, go for this lovely 7-foot under $100 option. The blue pine detail makes it look expensive and the ease of setup makes holiday decorating a breeze. Just add lights.
National Tree Company 7.5ft. Carolina Pine Hinged Tree
This is another tree that has it all. This 7.5 foot option from National Tree Company comes equipped with not only 750 clear lights, but 86 flocked cones for a fuller, unique and cozy addition. It has a super easy setup and can be stored away to last for years.
BEST TINSEL FAKE CHRISTMAS TREE
Belham Living Pre-lit Conical Christmas Tree
There is no fooling anyone with this artificial Christmas tree. The tinsel is fun, playful, and a fancy AF addition to your living room. It might be more fitting for New Year's Eve, but we are totally here for it. 
National Tree Company Pre-lit Artificial 2ft.Christmas Tree
If you're really looking to scale back this year, go for this little two footer. It will show you care a little, but don't want to fuss over anything big this year. Just like the Rockefeller Christmas tree in New York this year, it's a sign of the times. Plop it on your living room end table and call it a day. Or, add it to your work from home desk setup to get "in the spirit."
Home Accents 7.5 ft Needle Pine Unlit Artificial Christmas Tree
This fake Christmas tree is for those that want the creative freedom to change it up every year. It's a simple blank canvas, allowing you the space to decorate with different ornaments and lighting as you please. 
BEST FIBER OPTIC FAKE CHRISTMAS TREE
Best Choice Products 7ft. Pre-Lit Fiber Optic Artificial Christmas Tree
A fiber optic tree is one that has glistening branches with each move. It appears special and fancy to the eye, especially from far away. You can tell it's fake, but it brings a magical element into the home.
TRENDIEST FAKE CHRISTMAS TREE
Sterling 5Ft. Vintage Black Ombre Spruce
This tree is for the trendy guys. It might not be one that you'll want to use every year, but it sure does make a statement. It is a pretty cool to show off if you're the non-traditional guy looking to impress. 
This content is created and maintained by a third party, and imported onto this page to help users provide their email addresses. You may be able to find more information about this and similar content at piano.io
Advertisement – Continue Reading Below